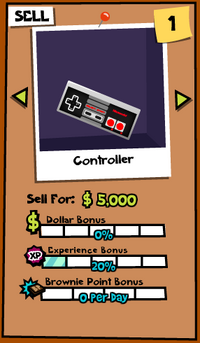 Follow the instructions below to recieve the Konami Komando
achievement
and the Power Up Controller as a reward. This achievement also rewards 1 BP.
Click on the phone (when you do not currently have any rewards to claim) and enter the following:
Up, Up, Down, Down, Left, Right, Left, Right, B, A, Enter
You can only perform this action once so there is no way to retrieve the Controller if it has been sold.
Note: This will not work in Mozilla Firefox. Use Google Chrome or Internet Explorer.